Fenella"s Super Berry KISSmas Cake ABC radio Wednesday 7/11
8th Dec 2011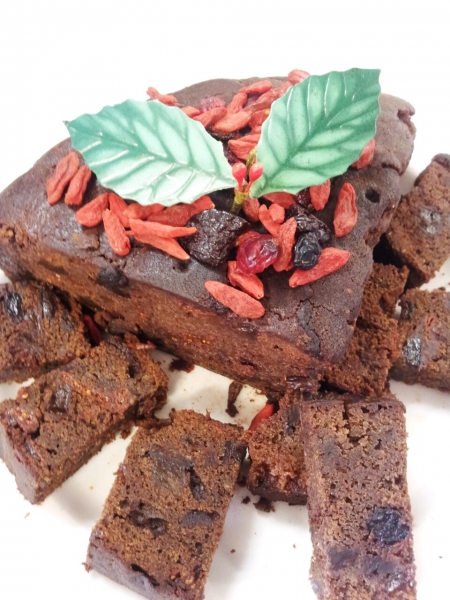 Just A little treat this KISSmas for all my customers. This cake was a little creation of mine for the talkback radio segment I do monthly with Kelly Fuller ABC northwest. You may follow this link to hear a playback on all my Natural Health talks this year. http://www.abc.net.au/local/stories/2011/03/09/3159488.htm
Fenella's Superberry KISSmas cake
2 1/2 cups sultanas
1 cup raisins
1cup Dried SUPERberries,(blueberries, strawberries, goji berries,sour cherries& cranberries)
150gms dark/cocao choc
185gms butter
1 tablespoon coconut oil
3/4 cup coconut palm sugar
1 tablespoon honey
1 1/2 cups cream sherry
4 eggs
150gms chopped/choc bits dark.
2 cups w/meal spelt flour
1/2 teaspoon b/carb soda
1 teaspoon chia seeds
Extra 1/4 cup sherry
Mix all dried fruits, sherry, sugar, honey, butter, coconut oil & choc. Put in pot and melt down keep stirring to avoid burning/sticking on the bottom. Bring to the boil and then simmer for ten minutes.
Bring to room temp then mix in eggs, flour, choc bits, bicarb soda, chia seeds and extra sherry.
Put in a pan about 19cms either round or square. Line the tin with paper.
Cook on slow oven..150 " celsius. Cooks for about 2hrs. As cooling brush with extra sherry.
Keeps 1 month or two in the fridge.