Crunchy Cacao Crackles
7th Sep 2014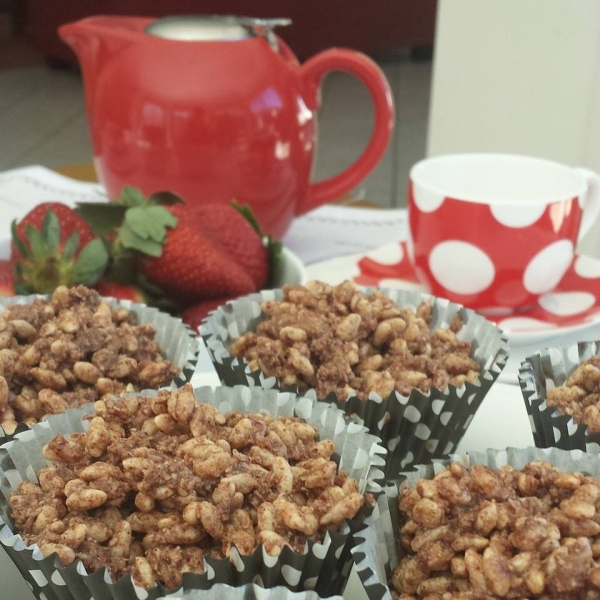 Gluten free, dairy free, low sugar
Do you remember eating chocolate crackles as kids? They were usually a big hit at kids birthday parties especially in the 70's and 80's. They were the ultimate sugar rush. That's what I remember, racing around like a maniac, I could have conquered the world living on those chocolate crackles!
One of my beautiful customers and I were talking about creating a healthy version for the kids and families of today. As more parents are aware of how highly processed food and lots of sugar can really influence our kids behaviour, also the rise of children with food allergies is noticeable at all kids parties and schools nowadays.
I've created the healthy version of my childhood favourite that is just as delicious but without the sugar rush and maniac personality that goes with it! Please enjoy as you reminisce about your childhood whilst giving your family great memories of their own. Parties are fun fun fun!

Ingredients
2 dessert spoons of cacao powder
1 cup melted coconut oil
2 tablespoons coconut nectar
2/3 cup desiccated coconut
1 heaped teaspoon vanilla bean powder
1 cup almond meal (or 1/2 cup of coconut flour if you need it to be nut free)
2 1/2 cups brown rice puffs/bubbles
Method
Melt the coconut oil. Add all the dry ingredients together in a bowl. Mix till combined then add the coconut oil. Mix again till all combined then put into either cupcake cases or muffin cases. Makes about 18 cupcake size or 12 muffin case size. Set in the fridge. Takes about 1/2 hour.
Keep in the fridge till ready to eat!
Recipe created 6/9/14 By Fenella Jane