Gluten free, Dairy free "Sticky Date pudding with caramelised pecans"
14th Jul 2014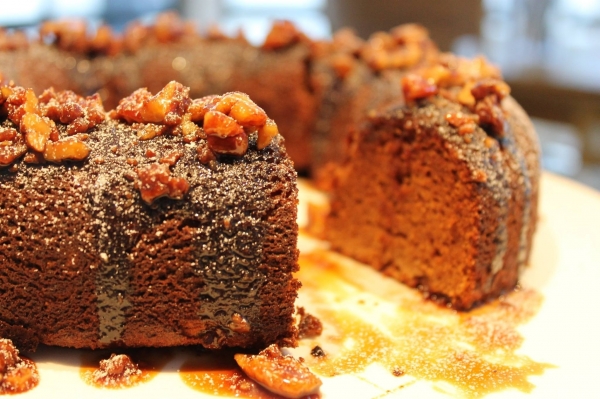 Fenella style.."Sticky date pudding with caramelised pecan nut sauce".
This is my latest creation. I've done this pudding completely Fenella style in other words it's easy and takes no time at all to make. You use only the blender and cake tin so there's no fuss and no mess. Just how I like it .
Traditionally sticky date puddings were boiled/steamed in a pot of water but I just don't have time or the will to fuss with my food that way. I also like to create recipes that can be used in many ways. The same recipe can be used to make muffins for lunch boxes or mini single serve puddings that can be frozen and reheated at later date. I hope you enjoy my simple, yummy and healthy version of sticky date pudding.
My recipe is also..Gluten free, Paleo , dairy free, low sugar, high fibre, grain free totally nutritious , guilt free and super yummy!
Ingredients:
1cup dates Madjool fresh dates(chop and de-pit)
1cup boiling water
1 1/2 teaspoon Bicarb soda
100 mls or 1/3 cup coconut oil or olive oil
1/2 cup coconut nectar sugar (or rice syrup or raw honey, I prefer the coconut sugar as it has a naturally caramel flavour which works best with the dates)
1 teaspoon salt
1 cup coconut flour 4 large eggs
Method:
I've used my blender(vitamix or bio chef ) for this so it is nice and easy. Chop the dates (and take out the pips/seed) and add oil and boiling water. Mix well till all dates are totally ground up. Then add eggs, mix again. Then add salt, Bicarb soda, coconut flour and coconut palm sugar. Mix well till all combined. Takes no longer 1 to 2 mins. Put in a tin lined or well greased. I've used my ring tin as I like how this shape looks once cooked. It presents well at the dinner table.
Cooks on 160'c or medium to slow oven. For about 35 - 40 mins. Please check as can burn easily on the outside. Let cool/rest for about 5mins then take out of tin and either serve with caramel pecan sauce or save till later and reheat before serving Will keep for up to 7 days in the fridge or 3 months in the freezer.
"Caramelised pecan nut sauce"
1/2 cup pecan nuts chopped
1/2 cup coconut palm sugar
1-2 tablespoons coconut milk.
Pinch of salt
Method:
Chop pecan nuts and put in a saucepan (medium to low heat) with the coconut sugar and pinch of salt, you must stay with this on the stove as it will burn really quickly. Mix together until the sugar has melted and coated the nuts. Once all melted and sticking together (takes 1-2mins) take off the heat and add the coconut milk, simply mix until the sauce is all runny. The sauce will thicken as it cools slightly. Now add to the pudding just before serving. Add ice-cream, cream or coconut cream(for dairy free version). You can double the sauce mix if you need more on the pudding if you you like.you can also make the sauce ahead of time and just reheat slightly before serving.
Created by Fenella Jane 13/07/14.
For more recipes go to www.kissbyfenellajane.com.au and click on "Articles" page