Date and Banana bread
10th Jul 2014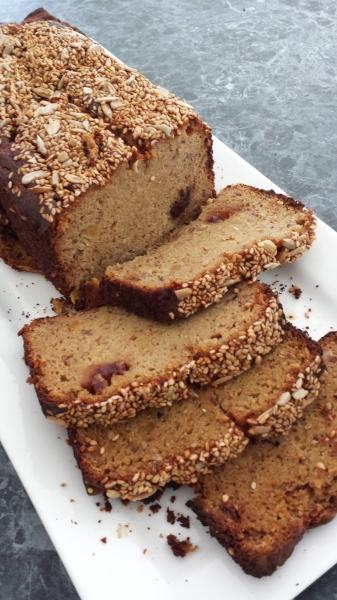 Date and Banana bread.
Recipe created by Fenella Jane
Grain free, Gluten free ,Dairy free, refined sugar free, high fibre , Paleo
Naturally high in nutrients, good fats and great for the whole family.
I love simple recipes that I can mix up in one pot or bowl! Takes no time at all and easy to clean up.No beating required. Just mix up and put into a loaf tin or muffin trays. (Makes 1 loaf or about 12 large muffins)
Ingredients:
2/3 ripe bananas
4 chopped fresh Madjool dates
1 cup coconut flour 6 eggs
1/2 cup coconut nectar sugar or rice syrup
pinch of salt
1 cup almond milk
1 teaspoon vanilla powder or essence
1/4 cup coconut oil or olive oil
1 teaspoon Gluten free Bicarb soda
Chopped walnuts or some sunflower/seasame seeds for the top.
Method:
Mash the Bananas, mix in with eggs, milk, coconut sugar and coconut oil. Mix well till combined. Add the vanilla, coconut flour, Bicarb soda ,pinch of salt and chopped dates. Mix all ingredients with a spoon. Sprinkle on top with the chopped walnuts/sunflower/seasame seeds. Put in loaf tin and cook for 40 mins on 160' c or a moderate oven.
Created 10/07/14