Seriously good chocolate cake.
26th Sep 2013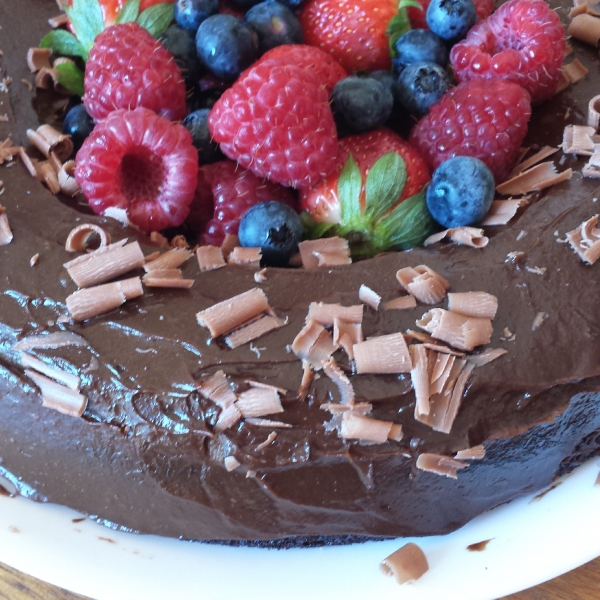 Flourless Chocolate Cake By Fenella Jane
Gluten Free, Sugar free, Dairy free, High protein/Low carb,
High Antioxidant and seriously delicious!
Cake:
1 Tin cooked Black Beans
125mls coconut Oil (organic/unrefined)
100/80gms Raw Cacao powder
4 Eggs
150mls Raw Honey(or Maple syrup/Agave Syrup)
1 teaspoon Bi-Carb Soda
1 cup Almond Meal
Pinch of Salt
1 teaspoon Vanilla powder(or vanilla essence/paste)
Icing:
1 Avocado
1/2 cup organic icing sugar/coconut palm sugar(powdered)
1 Teaspoon Organic Vanilla paste/powder/essence
1 tablespoon cacao powder
Method

Cake

Drain the tinned beans and put them into a food
processor. Add eggs, coconut oil,Honey Vanilla paste. Combine well.

Add Cacao
powder, Bi-carb , pinch of salt and Almond meal . Mix in well till the texture
is smooth.

Put into a 23cm Round ring tin and cook on 180"
for approx 35 to 40 minutes.
Icing: Combine all ingredients together in a food processor until
the mix is smooth in texture, please do a taste test and ensure it is either
sweet enough to your liking or strong enough with the chocolate flavour. If you
can still taste a mild avocado taste then add a little more of each till your
satisfied.
Once cake is cool add the icing and some fresh mixed berries
then enjoy. :)
Recipe Created By: Fenella Jane (22/9/13)