Fenella's Divine white Christmas
12th Dec 2012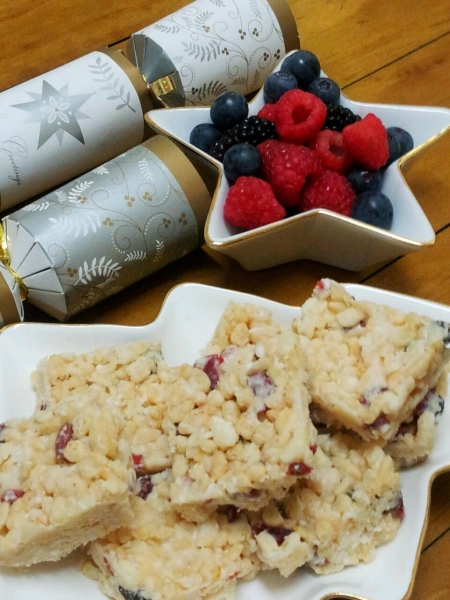 "Fenella's Divine White Christmas"
To hear My ABC radio talk includes this recipe and more health tips over christmas click
Gluten Free, Dairy Free.
Preparation time 15min.
4 Cups rice puffs/rice bubbles
125mls creamed raw Coconut Flesh
125mls Coconut Oil
½ cup Organic icing Sugar(may also use coconut palm sugar or dextrose/glucose powder)
1 Cup mixed dried Super Berries ( goji, blueberries, strawberries,
cranberries, golden berries)
1 Cup Dry roasted Macadamia Nuts
½ Desiccated coconut
2 teaspoons Organic Vanilla essence
Method:
Put all dry ingredients into a bowl. Chop the macadamia nuts
mix into dry ingredients. Melt the coconut oil and creamed coconut flesh. Pour onto
the dry ingredients. Combine well then put into a slice tray. Pat out flat and
then place into the fridge for about 20mins to set. Once set cut up into slices
and put into an air tight container.
*Note:the type of sugar is your choice I have used cocnut palm suger (powdered in my blender) or dextrose/glucose powder or stevia. Be mindful that coconut palm sugar will leave the slice a little caramel in colour.
Keep in the fridge. (Last up to 2 weeks.)
Enjoy!
Recipe created By Fenella Jane