Rockin Rum Balls
12th Dec 2012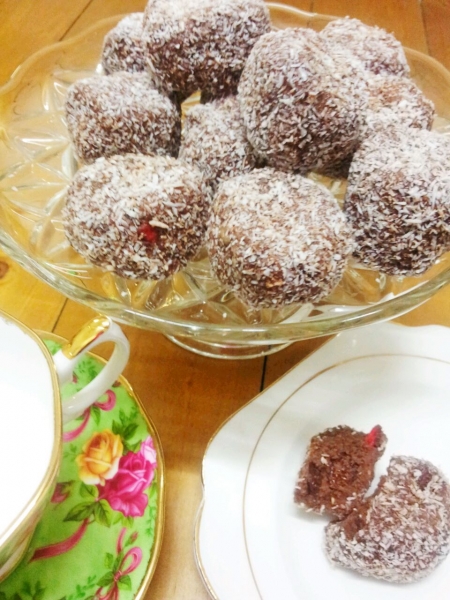 Rockin Rum balls. By Fenella Jane
These are delicious and simply melt in your mouth. A great healthy alternative to the traditional Rum Balls. My recipe is full of ingredients that are rich in nutrients and lower in sugar than what you would expect!
To hear the ABC radio talk Click
http://www.abc.net.au/local/stories/2012/02/15/3431582.htm
Guilt free, Dairy Free and Gluten Free
Preparation time 10min.
2 1/2 cups Almond Meal
1/2 cup Rice flour
2 Tablespoons Cacao powder
1 heaped Tablespoon Honey
125 mls Coconut oil.
1 teaspoon cinnamon
1/4 cup desiccated coconut
1/4 cup organic icing sugar
30mls Rum or rum essence
Melt coconut oil and add to all other ingredients in a bowl.
Mix until combined then roll up into balls and roll in desiccated coconut. Put
into the fridge. Will set but stays as a soft ball that melts in your mouth .
Keep in the fridge for up to two weeks in an air tight container.
Makes about 24 small bite sized balls.
Enjoy!
Created by Fenella Jane