Nelly's gone NUTS ! Radio Topic Brain Health 2
13th Nov 2012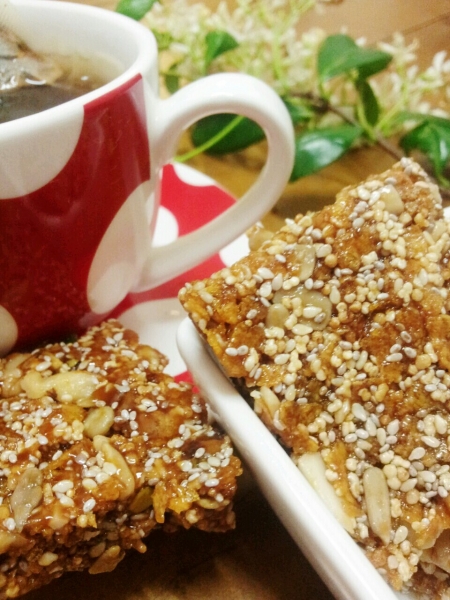 "Nelly's gone NUTS" Recipe by Fenella Jane
Today Kelly Fuller and I talked about Positve Thoughts and reprogramming our Brain. To Listen to the talk click on the link and enjoy!
http://www.abc.net.au/local/stories/2012/02/15/3431582.htm
The slice is..*Gluten Free *Dairy Free*Medium GI *Rich in Essential Fatty Acids , Vitamins , Minerals,Antioxidants , Fibre and Flavour!
½ cup Sunflower Seeds
½ cup Crushed Walnuts
½ cup Chia Seeds
½ cup Slivered Almonds
½ cup Raw Pistachio nuts
1/3 cup Sesame seeds
½ teaspoon Sea salt or Himalayan Pink salt
2 cups (gluten free) Cornflakes
1 cup Puffed Amaranth or Millet
1/3 cup Honey
1 cup Coconut Sugar
2oo mls Coconut Oil
Prep time 10mins/cooking time 10mins
Mix all dry ingredients together in a bowl. (Crush or chop Walnuts.)
Put Honey, Salt Coconut sugar and Coconut oil in a saucepan and bring to boil, simmer for 5mins until the sugar has dissolved.
Pour over dry ingredients and mix in well. Once combined put into lined slice tray, pat down hard to form a chewy bar consistency. Then cook in a moderate oven (18o' temp) for 10mins only. No longer or it burns easily.
May put into Patty cake cases and cook 8mins...Great for kids/adult parties!
Cut slice whilst still a little warm as it cuts easier that way and keep in the fridge.
Will keep for a few weeks BUT it doesn't really as it too yummy.Just don't eat it all at once J
Recipes are created By Fenella Jane.