Happy Healthy Smoothies
20th Sep 2014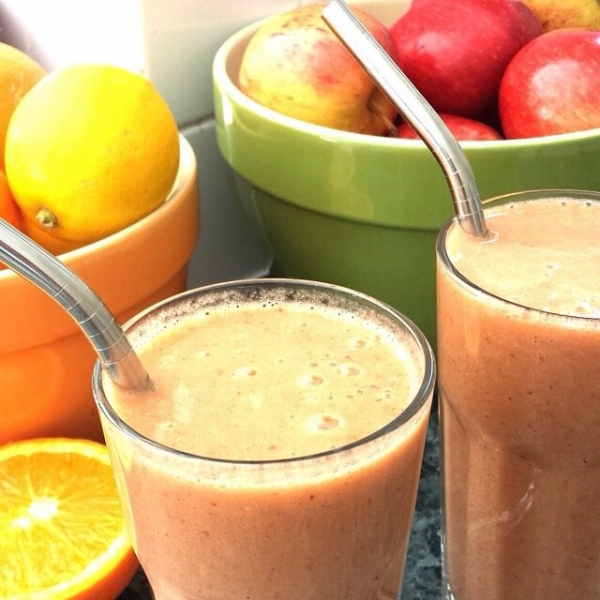 Spring is well under way and in my household that means SMOOTHIE TIME.
The best thing about smoothies is that everyone will enjoy them. Kids especially if they are fussy eaters will drink a smoothie without knowing how much "healthy stuff " you put in it.
Smoothies are filling, refreshing and can be enjoyed any time of the day.
I love all fruits and vegies but I also like to add some tasty and interesting ingredients to my smoothie recipes as well. For example, Ive used the banana skins in some of my recipes as they have good amounts of serotonin,a naturally occuring hormone that is most important for our brain chemistry. This hormone gives us that "I feel great, happy and vital " feeling.
Goji berries and blueberries are just some of my favourite berries. They are especially rich in antioxidants which gives us the vital nutrients to power our bodies and mind all day long.
You can add other ingredients to these recipes if you like. Adding a fermented rice or pea protein powder will give the smoothie more staying power and sustain your hunger for a longer period of time. Chia seeds or chia oil, linseed or hemp seed oil will add vital omega 3s to you daily diet.
Super food and greens powders for example, Spirulina , wheatgrass or barley grass will definitely add more nutrients and help to alkalise your body.(follow the amount to use as suggested on the product)
If more fibre in your diet is important than add a couple of teaspoons of rice bran, chia bran or psyllium husks. I have found adding these ingredients at times can make me feel really full so I eat less between meals,which is actually a good thing for helping to maintain a healthy weight (especially after winter..ha ha ) These fibres are also great benefit in lowering cholesterol.
I have at times added too much extras and ruined the flavours of the fresh fruits so my little tip to just "keep it simple" applies every time. Our body requires variety of all good things . So please keep it simple and keep it going, small amounts more often is much better than trying to do all healthy things at once. I don't have the same smoothie everyday, just like I don't have the same lunch and dinner.. Mix it up, have fun with it and get the kids involved.
Blueberry and cashew smoothie
Ingredients
1 handful of fresh or frozen blueberries
2 apples either royal gala or pink lady
1 handful cashews (cashews make this smoothie creamy yum!)
300 mls water chilled if you like or use coconut water
1 handful chopped pineapple fresh or frozen
Put all the ingredients into a blender and mix until combined. Best to drink straight away. Can be frozen in ice trays for mini cold snacks.
All of my smoothie recipes make great icy poles for summer snacks.
Makes enough for 2 serves/glasses
BANANARAMA...
Ingredients
1 banana(leave the skin on)
1 mango
1 cup of Watermelon wedges (frozen if you like)
1/2 cup Soaked/Activated Almonds
1 cup coconut water or fresh water
Wash the whole banana to ensure it clean(i use the really fresh skins that are still yellow and have no brown marks on them) chop and add all the other ingredients into the blender. Mix until combined.
Drink straight away as this will not keep very long. May be frozen.
Makes enough for 3 serves/glasses
Goji and Banana Smoothie
Ingredients
30 mls goji juice
1 banana with skin
5 large fresh or frozen strawberries
2 mandarins( peeled)
1 handful of chopped pineapple fresh or frozen
1 cup chilled water or coconut water
Wash and chop the banana, peel and de pip the mandarins then add all other ingredients into your blender. Combine well. This smoothie recipe will keep in the fridge for a day.
Can be frozen into ice blocks.
Makes about 2/3 serves.
Created by Fenella Jane 19/9/14